Fuel Reduction Program
The Leech Lake Wildland Fire Program continues to initiate and support hazardous fuels reduction projects, urban interface fuels mitigation projects and removal of bug killed trees on the Leech Lake Reservation. These projects are very important in reducing personal and community risk from wildfire. The process involves reducing ladder fuels, spacing trees to prevent the spread of fire to houses.
Ball Club Fuel Reduction (below)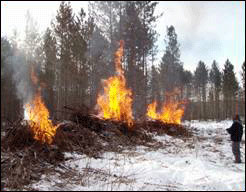 Oak Point Fuel Reduction (below)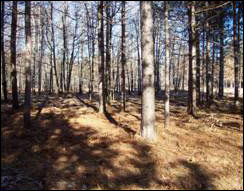 These Fuel reduction projects are completed and should only require upkeep in the oncoming years.
The following lists the hazardous fuel reduction areas we hope to do soon.
Allotment 37
Allotment 66
Inger
Marina
Old Agency
Porcupine Lane
Portage Lake
Contact Us
| Name | Title | Phone |
| --- | --- | --- |
| Bebeau, Duane | Fire Coordinator | 335-7440 |
| Bebeau, Timothy | Crew Member | 335-7440 |
| Drouillard, John | Crew Member | 335-7440 |
| Gotchie, Robert | Crew Member | 335-7440 |
| Jacobs, George | Crew Member | 335-7440 |
| Sweedman, Brent | Crew Member | 335-7440 |
| TeJohn, James | Crew Member | 335-7440 |
| White, Eric | Crew Member | 335-7440 |
| Wind, Daniel | Crew Member | 335-7440 |