Conservation Enforcement
The Department of Conservation Enforcement is dedicated to the protection of the water, land, forest, fish, wildlife, plants and other resources present upon the Leech Lake Reservation. Among our many duties, we write fire permits, enforce fish and game laws, regulate logging, wild rice harvesting, and plant resources, and generally protect the Band's many resources for the use of future generations.
The Division of Resource Management is dedicated to the enforcement of the fish and game laws upon the Leech Lake Reservation.
The Leech Lake Conservation Department was establish in 1975 after the 1972 Hunting and Fishing agreement between the State of Minnesota and the Leech Lake Band of Ojibwa. Enforcement is a management tool used to protect all natural resources, so that these same resources will be available for all future generations to enjoy and utilize. Duly constituted and properly identified Leech Lake Conservation Officers and Minnesota Conservation Officers are empowered with the authority to arrest Non-Indians and Tribal members for violations of State and Reservation game and fish laws committed in their presence and can initiate proceedings for these violations in County or Tribal Courts. The Leech Lake Conservation Department presently employs four full time Conservation Officers, stationed within the exterior boundaries of the Leech Lake Reservation.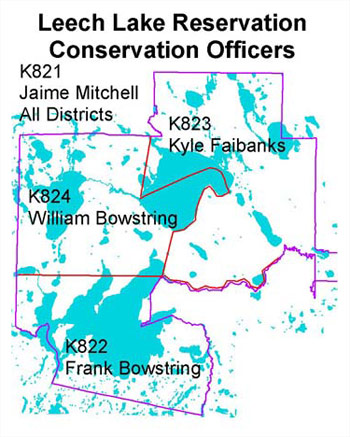 [email protected]
After 4:30 p.m. and on weekends, please call (218) 335-8277 to get a hold of an officer.
| Name | Title | Phone |
| --- | --- | --- |
| Mitchell, Jamie | Chief Conservation Officer | (218) 335-7413 |
| Bowstring, Frank | Conservation Officer | (218) 335-7413 |
| Bowstring, William | Conservation Officer | (218) 335-7416 |
| Fairbanks, Kyle | Conservation Officer | (218) 335-7416 |
| Toll-free | | 1-800-442-3942 |
| Fax | | (218) 335-7430 |