Prescribed Burns
Prescribed fire is a valuable tool to provide experience in burning different landscapes and fuel types. While reducing fuels to prevent catastrophic wildland fires, prescribed fire also reduces old vegetation to stimulate natural plants and grasses to improve wildlife habitat. The Leech Lake Wildland Fire Program has personnel trained to keep these fires within prescribed conditions and under control.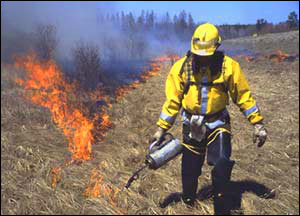 Photo: Controlled Burn, photo by Garth Fuller
The Leech Lake Fire Program conducts a couple of prescribed burns each year. The following maps show two areas where we will likely having a controlled burn.
Click on the prescribed burns to see large aerial maps.
Battle Point Rx
Winnie Ponds Rx
We also team up with other agencies for larger prescribed burns. The following maps show two areas of potential inter-agency burns.
Boy River Rx.
Contact Us
(218) 335-7400 DRM
| Name | Title | Phone |
| --- | --- | --- |
| Bebeau, Duane | Fire Coordinator | 335-7440 |
| Bebeau, Timothy | Crew Member | 335-7440 |
| Drouillard, John | Crew Member | 335-7440 |
| Gotchie, Robert | Crew Member | 335-7440 |
| Jacobs, George | Crew Member | 335-7440 |
| Sweedman, Brent | Crew Member | 335-7440 |
| TeJohn, James | Crew Member | 335-7440 |
| White, Eric | Crew Member | 335-7440 |
| Wind, Daniel | Crew Member | 335-7440 |