Wildlife Monitoring
Wildlife population monitoring
The Wildlife Program conducts, or participates in, a number of wildlife population monitoring efforts to assure that wildlife populations are healthy and not being over exploited.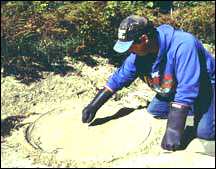 Scent Post Survey
Scent post surveys are conducted by may agencies and individuals across Minnesota and compiled by the Minnesota DNR. This survey involves constructing as circular area of fine soil material where animal tracks can be easily identified. A strong smelling scent table is placed to the center of each circle to attract animals. By identifying what species of animals have visited the circles an index of their abundance and population trend can be developed.
Winter track survey
The winter track survey is another survey used to track the population levels and distribution of mammalian predators. It focuses on predators like fisher, pine martin, red fox, Coyote, and gray wolf that range over large areas in search of food. This survey is conduced by identifying the type and number of animals by their tracks. It is conducted after a fresh snowfall along a predetermined survey routes on an annual basis.
Small mammal survey
The small mammal survey was developed and is coordinated by the 1854 Authority and has many of the same cooperators as other surveys that need to be conducted over a very large scale to provide meaningful results. This survey involves the capture and identification of small mammals, including voles, mice, and shrews, over several girded parcels on the reservation. You might ask why we are interested in the diversity and number of small mammals, but they are an overall measure of the health of the environment and gives us a measure of food supple for larger predators.
White-tailed Deer
White-tailed deer are a species that was once uncommon on the reservation. Forest fragmentation from logging and human development has resulted in an abundance of habitat, while climate change has lessoned the severity of our winter. These factors have resulted in large numbers of deer now calling the reservation home. If you are a deer hunter this might be a good think, if you want to gather traditional or medicinal plant, these items are hard to find due to heavy brows by deer.
The main way of tracking deer numbers is by monitoring harvest by hunters and tracking the severity of the winter. The Wildlife Program monitors tribal deer harvest and coordinates with the Minnesota DNR in the setting of State and Tribal seasons and bag limits.
Ruffed grouse survey
The ruffed grouse survey is conducted early in the spring by listening for drumming males along predetermined routes. By comparing the numbers of drumming males from year to year you can get a rough estimate of population levels across the landscape. This survey is also coordinated with other resource management agencies in order to gather enough data to generate valid results about grouse populations on a broader scale.
Rare species
Although the habitat for wildlife on the reservation for many species is good, when compared to other parts of the country, we have, and continue to experience, losses to our wildlife species. There are currently about 100 species of plants and animals that are considered sensitive, threatened, or endangered on the reservation. A current list of these species can be found at (link to Excel file: LLR TES List Jan.2007) In addition, one species, the passenger pigeon, is extinct, and the eastern cougar, elk, caribou, moose, plains bison, grizzly bear, and sharp-tailed grouse have all been extirpated from the reservation. Several other species including the gray wolf, trumpeter swan, pine marten, and fisher were extirpated from the reservation, but due to protection from excessive harvest have returned.
To a large degree, wildlife populations are dependant on having the proper type of habitat in adequate amounts for a species to prosper. In the modern world, meeting these demands for all species is becoming increasingly difficult. Loss of wildlife habitat due to human development and timber harvest are big factors, but climate change and the introduction on non-native species are becoming bigger issues.
Contact Us
DRM (218) 335-7400
| | | |
| --- | --- | --- |
| Name | Title | Phone |
| Mortensen, Steve | Fish, Wildlife & Plant Resources Program Director | 335-7421 |
| Finn, Jon | Fish & Wildlife Field Specialist | 335-7424 |
| White, Gary | Assistant Hatchery Manager | 335-7424 |
| Robinson, Martin | Fish and Wildlife Technician | 335-7424 |